They say that love comes to a man through his stomach, and all of us who cooked favourite meals for our men can probably identify with this.
I would go a step further and say that everyone, male or female loves to have their favourite meal prepared for them, but this time I'll talk about a dish that most men love - grilled fillet steak.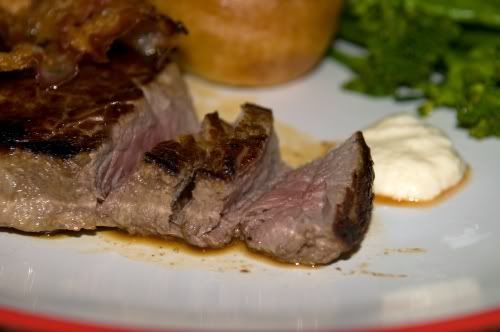 The best accompaniments to this meal are steamed tenderstem broccoli, horseradish sauce and gravy
When I use Aunt Bessie's Yorkshire puddings, Coleman's Horseradish Sauce and Bisto gravy, this is the fastest cooked meal on my menu, but even to make your own puds and sauce it's not hard or time consuming.
You will probably not have enough meat dripping to make your own gravy though, so I'll include that recepie some other time.
Horseradish sauce
60 g fresh horseradish root
150 ml double cream
1 tsp sugar
1/2 tsp english mustard
1/2 tsp salt
1/2 tsp white pepper powder
2 tsp white vinegar
Soak fresh horseradish root in cold water for 1 hour. Wash, peel and finely grate it.
Whip the cream and add the horseradish, sugar, mustard, salt, pepper and vinegar to taste.
Leave in the fridge for 2 hours until the tastes combine and serve with grilled steak.
Yorkshire puddings
110g flour
2 eggs
300 ml cold milk
2-3 tbsp olive oil (or meat dripping)
pinch of salt
Sift the flour and add salt and eggs. Whisk gently until smooth and well combined. Slowly add milk and keep whisking.
Leave covered in the fridge for 30 minutes.
Use muffin (or yorkshire pudding) tray. In each compartment put 1/2 tsp of oil/dripping.
Put high up in the preheated oven (220 degrees) and leave for 5 minutes until the oil is very hot.
Remove from the oven and equally divide the pudding mixture, fresh from the fridge and quickly whisked with a fork, between all the compartments. Work quickly.
Put the tray back in the oven and bake for further 15 - 20 minutes, until puddings rise (leaving large dip in the middle) and become golden brown.
Serve with gravy and meat.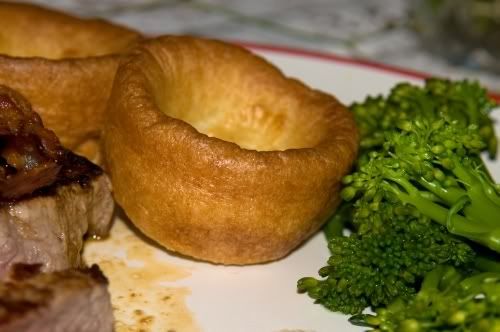 Wash and steam the broccoli for about 5 - 7 minutes, until tender but not overcooked. Drain and serve as an accompaniment.
Fillet steak
It should be about 3-4 cm thick. Do not salt it, just grill it (or first grill some thin pancetta slices, then add steaks and put pancetta on top of the steak during cooking for extra flavbour).
Cook on second highest heat setting, one side for about 5 minutes, turn and cook another 3 - 5 minutes, depending how well done you like it.
If you ask me, medium well is perfect, so that the middle is pink but all the fibers are visible and there is no blood or blue raw meat in the middle, but that's just how I like it.
When steak is done, leave it on plates for 5 minutes to rest, then serve with puddings, broccoli, sauce and gravy (if you don't mind using instant), but it is juicy enough even without.
Crepes with lemon and sugar
The difference between crepe and pancake is that crepe is thinner, and in my opinion, more tasty. Pancakes are usually 2-4 mm thick while crepes are about 1 - 2 mm.
2 eggs
pinch of salt
1 tbsp sugar
a splash of oil
approx 1 - 1 1/2 coffee mug's worth of flour (half plain, half self-raising)
200 ml milk
add water
to make pancake batter of the right consistency
(it should easily spread on heated pan, but not be watery or too thick, because if it's too thick you won't be able to make thin crepes, if it's too watery, the crepes will fall apart)
Oil is added so that pancakes/crepes don't stick, otherwise, you'll add 1/2 tsp oil every 2 - 3 pancakes to keep the pan well oiled during cooking.
To make the batter, mix eggs, milk, sugar and oil, add flour and then add water gradually until you are happy with the consistency.
Some people add vanilla sugar or a touch of cinnamon as well, but I like them plain in this recepie.
Heat the pan on second hottest setting on your stove, add a tsp of oil and spread it around.
Using a ladle, pour just enough dough that it covers the bottom of the pan when you turn the pand around slowly.
Cook until on top there is no evidence of uncooked batter.
Using a blunt knife, undermine the pancake and quickly flip over. Cook for another minute and when finished, put on a side plate, repeating the process until all batter is used.
I fill pancakes as I cook them, so when one is finished, sprinkle a teaspoon of caster sugar all over the pancake, squeeze some fresh lemon juice on it and roll up.
This quantity is enough for about 15 crepes, so it can be, on it's own, a light supper, but in any case, the cooking is done in about 30 minutes and it tastes divine :)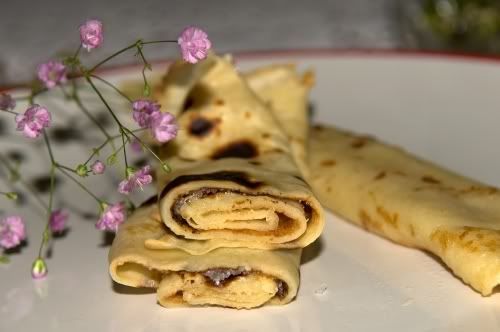 Bon apetit!