I've been cooking a lot of things but I find it hard to manage taking pictures of it because it often gets eaten too quickly or I am really tired at the end of cooking to bother with photography (or as y husband calls it "CSI evidence documenting" which definitely turns me off :)).
I love photography, and I am capable of taking really nice pictures (this is my
photoblog
), but when I photograph, I often forget about everything else, especially food. So, I guess, photos on this blog are a work in progress.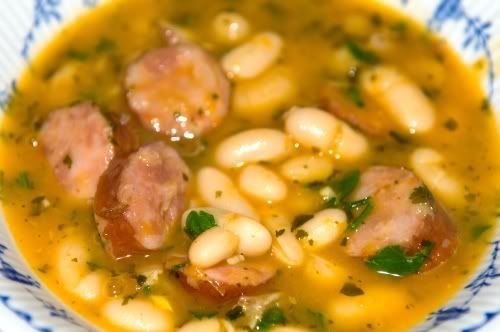 These pics are "as is" indeed, my stew is that red and it is yummi :)
This is a recepie that soldiers used to make in Yugoslavian army, and the saying goes that the bigger the quantity you make, the better the stew. It remains a firm favourite amongst men as well as busy mothers because, if you use washed canned beans, this dish is versatile and ready in no time.
Take the sausage away and you have a vegetarian version, and it is a great way to sneak lots of veggies to your kids because you can grate the carrot and celery for a thick consistency full of veggie goodness, and they will be none the wiser ;)
This version is my winter favourite, with all the trimmings - sausage, cut veggies and garlic roux, but if you want a lighter version, omit the roux and add a handful of macaroni into it and you will get an awesome Minestrone soup instead.
Ingredients:
0.5 kg (one packet) of dried white beans (or one can, for a quicker cooking time)
dry cured meats as you wish (panceta, sausage, smoked pork leg, ham etc, omit for vegetarian version)
2 onions
1 stick of celery
2 carrots
1,5 tbsp tomato concentrate
1 - 2 l of stock cube dissolved in water or buyon
2-3 bay leaves
4-5 whole peppercorns
salt, ground pepper to taste
olive oil
Roux:
olive oil
2 tbsp flour
2 tsp ground paprika
3 cloves of garlic, finely chopped
Preparation:
If using dry beans - wash them and soak in cold water overnight. Drain before adding to stew. If using beans from a can, just wash tham under running water and add to stew which will be done muuch more quickly.
Sautee grated onion, celery, carrot and if using pancetta - finely chopped pieces of it.
Add bay leaf and pepercorns, sautee for a few more minutes, and then add beans.
and then sausage cut in pieces.
Mix well and add vegetable buyon, just enough to cover the ingredients by about 3 fingers breadth. To that, add tomato concentrate mixed with some water.
Add a touch of salt but not too much, your dry meat will release salt so it is best to salt at the end of cooking.
Cook on low fire, if using dry beans, then for good 2-3 hours, but if using canned, then just over 30 minutes.
If you are adding pasta, and using canned beans, add pasta as soon as you add all the liquid, but, if using dry beans, then add pasta after you added the roux, in the last 20 minutes of cooking.
Check regularly and mix, because you don't want to add too much extra water, and you don't want it sticking to the bottom either. I find that good initial amount of water and low fire makes it easy and it largely takes care of itself.
If adding roux, you will need to make it in a separate saucepan and add to the stew.
Heat the oil, add finely chopped garlic, flower and paprika. Add about half a cup of cold water and stir until smooth.
You'll get this: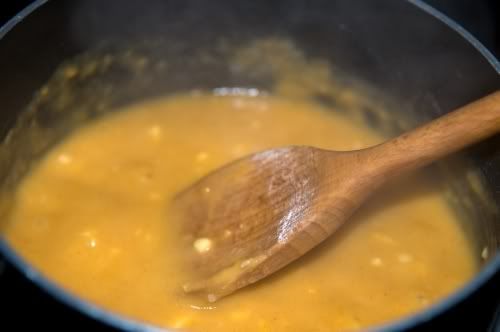 Add the roux to the stew and stir well. You will see the stew thicken quite nicely. Let it simmer for another 10 - 15 inutes and when done, add chopped flat leaf parsley and let it rest for 10 minutes before serving.
Serve hot, with a simple salad made from fresh tomatoes and onions with addition of a little bit of olive oil and salt.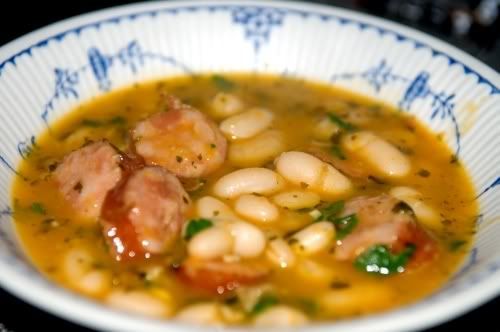 NOTE: if you are leaving some stew for tomorrow, don't add parsley into the whole dish, just to the bowls that you will serve in, and add frsh parsley tomorrow, for fresher garden taste.
Bon apetit!