Having been born in former Yugoslavia I had the privilege to grow up with one of the best cuisines in the world. The term "fusion cuisine" perfectly describes the meals we ate, which were the result of so many cultures converging and settling in the Balkans, since prehistoric times. The net result is, for me, the epitomy of fusion cuisine - the best food from all over Europe, Mediterranean and Middle East.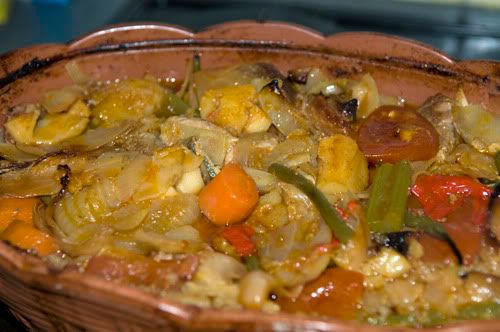 Bosnian pot is one of my favourite dishes. As the name alludes, it comes from Bosnia and every family has their own version of it. Traditionally it is made in large clay pots or cauldrons from a variety of vegetables, meats and spices to create a slowly cooked stew with absolutely amazing flavour.
This is a meal that gives one of those transcendental experiences, when you just close your eyes and let yourself smell and taste this heavenly combination.
NOTE: in Muslim parts, this dish is made without pork, also, some people like using animal fat instead of oil. I use lean meat and olive oil and the taste is perfectly divine.
Ingredients:
250 g beef
250 g pork
200 g lamb
50 g pancetta (thinly sliced)
3-4 medium potatoes
1 head of garlic
2 medium onions
2 carrots
1 small white cabbage
1 - 2 pointy red or green pepper
100 g string beans
2 tomatoes
1 parsnip
1 tsp paprika
10 pepercorns
1 clove
1/2 - 1 small cinnamon stick
salt to taste
200 ml white wine
olive oil
water
Preparation:
Remove excess fat from meat and cut it into large pieces. Peel the onions, potatoes, carrot and parsnip and cut into larger chunks. Wash celery, peppers and tomatoes and also cut into large chunks (quarters perhaps). Wash string beans and garlic cloves but leave them in the skin for better flavour. Wash cabbage and cut into chunky strips. Mix all the vegetables together.
Using a clay or terracotta pot (you can use any large stew pan but clay pots give that little bit of extra flavour) put a layer of vegetables, then spices, then meat, then vegetables again, layering until all the meat and veg is used and on top you end up with the layer of vegetables.
Mix wine, salt, olive oil and water and pour over the layered dish so that the water reaches about two-thirds to the edge (if you put too much liquid it will leak during cooking).
Cover with a lid. Cook for 4 1/2 hours, in the oven at 175 degrees (if you are using clay pot) or on the stove top on low heat (if using a saucepan).
If you are using pressure cooker, you can halve the cooking time.
Serve warm with some home-made bread, recepie for that to follow.